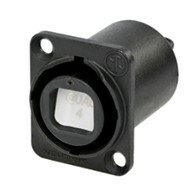 opticalCON QUAD MED Chassis
Female chassis connector, black chromium plating, front panel mount, IP65 ingress protection in mated condition with SCDP-*.
The chassis connector acts as a "feed-through" allowing simplified installations by connecting four conventional LCs on the rear. It is built in the NEUTRIK standard D size shell and features an automatic sealing cover for maximum dust and dirt protection and a Push-Pull locking mechanism for safe connection.